When Britney Spears Leaves my Lab
Recently, #freebritney, a social media movement protesting the rockstar's Overprotected conservatorship became quite the Circus as Britney Spears revealed to the world that she is more than a broken celebrity or wounded tabloid victim.  Fans unearthed a satirical gem where the Womanizer singer found herself the Femme Fatale of scientific scrutiny. The esteemed journal Nature published "When Britney Spears Comes to My Lab" in early 2008 when Britney Spears was navigating and ultimately overcoming a heavily publicized mental health crisis.
At first blush, Vince LiCata's characterization of a fictitious Britney Spears reads like fanfiction, but framed within the history of the time, LiCata highlighted how popular media reveled in dissecting Britney's fashion and life decisions with scalpel precision. LiCata provided the Slave 4 U star with an alternate ending in which the heroine overcame the fashion-police and disgruntled groupies, disentangled herself from intermittent marriages and her hair from the pH meter. The Stronger singer was Lucky enough to live happily ever after as the famous Dr. Spears—diabetes scholar and scientist extraordinaire; the only celebrity whose stalkers have PhDs. LiCata was careful not to sexualize the character and focused his click-bait commentary on in-depth reporting of the Crazy singer's academic regalia. A
month later, Nature published a female-led retort which missed its mark to slam the original article, and instead criticized the Outrageous starlet for failing to represent the paltry salary and unrealistic work-life balance of a real graduate student.
Nature issued an official PR-scrubbed Apology in 2021 which rings hollow in authenticity and doesn't own up to the problem that they were offensive or might need to change their ways. Nature's apology is tantamount to "Oops, I did it again". I was tempted at first to hyperbolize the story, and excerpt the most egregious twitter-troll soundbites rather than dive into the 900-word fiction piece. I reached out on a lark to Vince LiCata with the intent to mom-splain why, with perfect hindsight in the wake of #FramingBritneySpears, it was easy to Criminalize LiCata's Nature2. But the Boy apologized, and it felt like it was truly from the Bottom of his broken heart. LiCata willingly started a dialogue with me about science and Britney, conversing openly about the implications of the male gaze for shaping the scientific career of the Pretty Girl.
For academics, especially junior female scholars, LiCata's piece is unfortunately reminiscent of the experiences of far too many promising young women embarking on a career where they hope to become a Rockstar scientist. They enter the laboratory setting seeking mentorship and guidance, academic discourse, and an arena in which they are judged foremost for their minds, work ethic, and data. Yet, too often the academic environment is Toxic, requiring junior scientists to rise above the gaze of their overwhelmingly white male colleagues and bear the brunt of convincing professors that they should be taken seriously as a scientist even if they have a penchant for garish eyeliner or a diet-be-damned extra slice of pie. The onslaught of gendered put-downs, unwanted sexual attention, and judgment take its toll according to a report by the esteemed journal Nature. And just as Sarah Hubbard's retort3 did not defend the If U Seek Amy star or castigate male leadership for their gaze, all too often successful female academics fail to propel the next generation forward. Career paths are faulty, leaky and broken, all at the same time[vii].
The satirical piece "When Britney Spears Comes to My Lab" is unrealistic. Not because it is impossible to suspend disbelief and imagine a Rockstar becoming a Rockstar scientist.  LiCata's vision is stunning for imagining the promise and potential of the Me Against the Music star shining in another professional endeavor where Britney can demonstrate her talents to Work B**ch.  LiCata's vision is unrealistic because he imagines a world where a research intern can convince a fictional principal investigator who glances upon her silver strapless stretch top that her true love is for Intro Bio … that 'beneath that spandex and body glitter is the heart of a dedicated scientist.' Rather than having her career skyrocket, the reality is that the research intern's career trajectory is more likely to succumb to a quiet mental health crisis that TMZ has yet to report on. 
---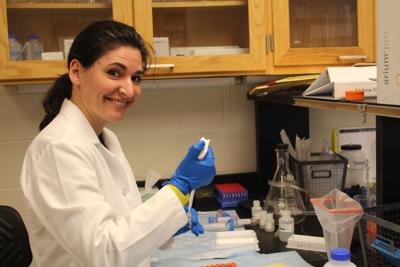 Birdie Shirtcliff is a professor and director of the SPIT lab. She studies the endocrinology of adolescence and pubertal maturation.
Share this post: